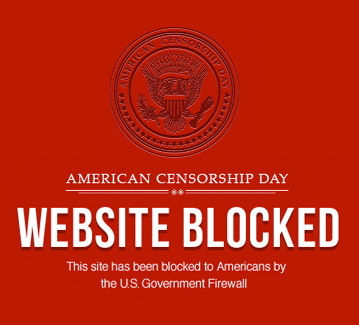 Despite claims that they have been "improved" and rumors that opposition from the Obama administration may make them harder to pass, we expect the Senate to move forward with a vote on the Protect IP Act (S.968), its version of the controversial Stop Online Piracy Act (H.R.3261), on Tuesday and a vote on SOPA in the House may follow a few days later.
Despite prominent protests from major websites like Wikipedia and Google, which are staging "blackout" events, shutting their systems down to draw attention to the issue, influential media lobbyists have bought enough support in Congress that they may be able to ram these bills through  Congress with leverage from powerful Congressmen like SOPA author and Judiciary Committee Chairman Lamar Smith (R-TX).
While some concern over online piracy is justified, SOPA and PIPA do not really target the major offshore data havens which are the real source of the problem and grant indiscriminate and unaccountable enforcement power to government agencies which will be used to intimidate content providers, shut down entire networks based on nothing more than an accusation, and even blacklist  businesses and remove them from the internet entirely. The existence of this sort of draconian enforcement system will have a chilling effect on this increasingly important sector of the economy and lead to wholesale violations of the privacy rights of individuals and businesses. It's another bad idea from a government which has become too big and too eager to interfere in every aspect of our lives.
SOPA and PIPA would force Internet Service Providers (ISPs) to block public access to websites on their networks based on nothing but an unsubstantiated accusation of facilitating copyright infringement.  Nothing more than a complaint  could be used to preemptively shut down web-based businesses. They would be treated as guilty until they could prove their innocence, a complete contradiction of American legal tradition. The bills also open up the potential for prior censorship out of fear of accusations and bankrupting small businesses which cannot afford the legal costs of a fight to defend their rights. The potential for lawsuit abuse and intimidation from media giants with deep pockets and their own legal teams is enormous.
Opponents have compared this legislation to China's online censorship. Corynne McSherry of the Electronic Frontier Foundation described SOPA as "the worst piece of intellectual property legislation we've seen in the last decade." Protests from consumer groups, civil liberties advocates and online businesses are widespread, but despite opposition, Senator Harry Reid has scheduled a vote on PIPA for Monday in the Senate. He already has 40 sponsors from both parties, including big-government Republican traitors like John McCain, Lindsey Graham, Orin Hatch and even Marco Rubio.
Our best hope right now is to win over as many Senators as we can and promote a Senate filibuster, but this is just the beginning of the fight. Please email your Senators now and be prepared for the next steps in the fight to keep the internet free and open for all Americans. We'll keep you updated as the fight goes on to the House.
When sending your email, please do what you can to customize the text of the message.

The views expressed here are solely those of the author and do not necessarily reflect official positions of the RLC.