By Aaron
- October 22, 2010 at 8:18 AM
Filed under
Bailout
,
Congress
,
Elections
,
Heath Care
,
Illinois
,
Indiana
,
Iowa
,
Michigan
,
Minnesota
,
Missouri
,
North Dakota
,
Ohio
,
South Dakota
,
Wisconsin
President Obama counted on Midwestern states to deliver his 2008 Presidential victory. His popularity in the Midwest was high, having won by large margins in states like Iowa, Michigan, and Wisconsin. Clearly Midwest voters were interested in change and a new direction for the country.
But with less than two weeks until the 2010 mid-term elections, the Midwest has become the President's biggest problem area.
The President's party is poised to lose at least four Senate races in the Midwest (IN, MO, ND, OH) while two others remain tight contests in which the GOP candidate has been consistently leading (IL, WI). Of the four open Midwest gubernatorial contests, the GOP is posting solid results in three of them (IL, OH, WI) with another, Minnesota, still up for grabs.
Looking at swing Congressional races is where you really get an idea of the Democrats' Midwestern problem. States that rarely have competitive races like Minnesota and Missouri each have several vulnerable incumbents in 2010. Missouri Blue Dog Democrat incumbent Ike Skelton, who has represented central-west Missouri for more than 30 years, is facing perhaps his toughest challenge yet. A similar situation is facing U.S. Rep. Jim Oberstar, who represents northeast Minnesota. Oberstar has been in Congress consistently for nearly 40 years and is in the race of his life. Tim Walz, a second term Democrat from a southern Minnesota swing district, is facing a tough reelection battle as well.
Wisconsin — which is thought to be liberal but is more accurately categorized as a swing state — currently has only three Republicans in its eight member Congressional delegation but may have just two Democrats in its delegation by January, 2011. Vulnerable incumbents there include Reps. Steve Kagen (D) in the northeastern part of the state and Ron Kind (D) in the west.
Illinois and Ohio have between five and six seats each that are extremely competitive House races while four Michigan and three Iowa and Wisconsin seats are up in the air.
Illinois' western-most district, represented by second term Congressman Phil Hare, was a seat pundits never thought would be in play. But the rural, gerrymandered district is now a national target of Republicans, who have an excellent candidate in businessman Bobby Schilling. Mark Kirk's vacated seat in the moderate northern Chicago burbs is also up for grabs and is really the Democrat's only pickup opportunity in the Midwest this cycle. Reps. Melissa Bean (D) in the western Chicago suburbs, Bill Foster (D) in the southern Chicago suburbs, and Debbie Halvorson (D) in central Illinois are also in tough reelection battles. Halvorson, who doesn't shy away from any of her votes or support of the Obama agenda, has been down as far as eighteen points in recent surveys.
In Iowa, all three of the incumbent Democrat Congressmen, Reps. Bruce Braley, Dave Loebsack, and Leonard Boswell could lose. Indiana's Joe Donnelly (D) and Baron Hill (D) are facing tough challenges and Brad Ellsworth's open seat in southern Indiana is poised for a Republican pickup.
The upper Midwest is heavily in play, too. Bart Stupak's open Michigan upper Peninsula seat is leaning Republican, as are the two northern Wisconsin seats held by the retiring Rep. David Obey (D) and second term Democrat Steve Kagen.
The Democrats are losing rural voters who are deeply concerned about the economy and didn't see any added benefits after the stimulus and Obamacare.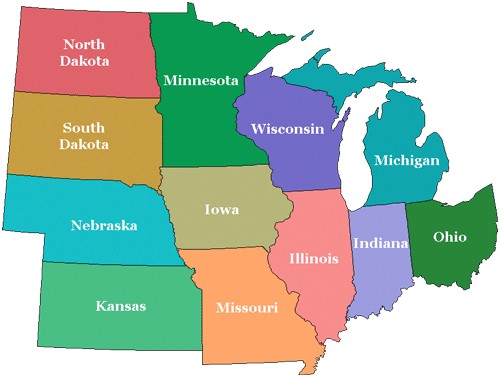 Voters in rural Ohio districts like the eastern-most districts of Reps. Zack Space (D) and Charlie Wilson (D) may be poised to boot out the incumbents. The same is true of swing districts in Ohio like that of northeast Ohio's John Boccieri  and central Ohio's Mary Jo Kilroy, first-term Democrats who rubber-stamped the entire Obama agenda. Suburban districts represented by Steve Driehaus (D) and Betty Sutton (D), which are centered around Akron and Cincinatti, are also in play.
Both the North and South Dakota At Large seats are up for grabs for the first time in many years, too. All told, the entire region is in play — from Skelton's seat in central Missouri to Wilson's seat in eastern Ohio and from Kagen's seat in northeast Wisconsin all the way westward to the Dakotas.
A recent Rasmussen poll showed that voters are angry with Members of Congress who voted for Obamacare, the auto bailout, or the stimulus package. By significant margins, voters do not want to reelect incumbents who voted for these unpopular parts of the Obama agenda.
The Midwest's economy is suffering and people are out of work. Jobs is the main topic of most Congressional debates in the region. Midwest voters are likely to make significant changes in who represents them in Congress. Whether those changes will help the struggling economy recover and foster job creation in the region remains to be seen.
But one thing is for sure: the Democrats have a Midwestern sized problem.
The views expressed here are solely those of the author and do not necessarily reflect official positions of the RLC.