Freedom Advocate,
Below we report on some of the latest key developments from the Republican Liberty Caucus over the last month, including:
· Our victories at the ballot box on November 2;
· News from the Caucus; and
· Upcoming RLC events you can be a part of.
Also, take a minute to hear a special video message explaining the value of our fight. Nothing will be achieved without you getting active in your state RLC chapter, making a monthly pledge to the RLC, or becoming a member for the first time.
Warm holiday wishes from the Republican Liberty Caucus.
For Liberty,
Dave Nalle
National Chair
____________________________________________________
Election Results Show Liberty Message is Popular
The Republican Liberty Caucus (RLC) Board of Directors are excited and optimistic about the election results. The most exciting results for Republican Liberty Caucus members is electing two of our own members to Congress: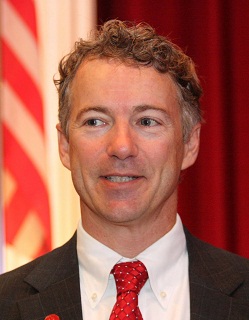 Dr. Rand Paul is Senator-elect from Kentucky. Justin Amash is Representative-elect from Michigan's Third Congressional District. Congratulations, Rand and Justin! RLC supporters have no doubt that these two champions of liberty will work vigorously to promote our vision of a free country in Congress.
Joining Rand Paul in the Senate are RLC-endorsed Senate candidates Mike Lee of Utah and Pat Toomey of Pennsylvania.
Two RLC-endorsed candidates for Governor, Paul LePage of Maine and Nikki Haley of South Carolina, were elected. LePage and Haley come from very different backgrounds and from different parts of the country, but are united in their strong belief in the individual and faith in the free market system.
A list of other RLC successes is available at the RLC blog.
.
Register Today!  Early Discount Rate for 2011 RLC National Convention in Washington, DC
Celebrate 20 years of the Republican Liberty Caucus with fellow freedom fanatics at the largest gathering of liberty Republicans in the country.  The deadline on discounted registration is December 15, so be sure to log on today.
Florida and Wisconsin Chapters Will Host Winter Conventions
Join us at the biennial conventio
ns of our Wisconsin and Florida chapters so you can learn more about our organization and how you can play a role in restoring individual liberty, limited government, and free enterprise in our co
untry.
From 1:30 to 5pm on Saturday, December 11, the Republican Liberty Caucus of Wisconsin will host its Membership Conference and Convention at Concordia University (Friends of Concordia Seminar Room) in Mequon, Wisconsin. Guest speakers at the event include:
·
Yuri Maltsev, Ph.D., Professor of Economics

·
James Burkee, Ph.D., Professor of History/Economics
·
Terri McCormick, M.A., former State Representative

Each of these individuals are Republican Liberty Caucus members and two of them were endorsed in their bids for Congress by the Republican Liberty Caucus.
Dr. Yuri Maltsev's
research focuses on the politics and economics of Eastern Europe and the former Soviet Union. Dr. James Burkee's
research focuses on political reform and the disconnect between politicians and the American public. Terri McCormick is the founder of the Wisconsin Charter School Association and has received numerous awards for her achievements as a legislator.

The Republican Liberty Caucus of Florida Convention will occur on Saturday, January 15, from 1:30pm to 9pm in Orlando. The day will begin with meetings and reports from leadership around the state, culminating in the Annual Meeting and election of new officers. Florida RLC'ers will celebrate at the Gala which begins at 7pm. Register online today!
In addition to attending these state events, we hope you'll consider attending the
RLC National Convention in Arlington, Virginia on February 12
to help us celebrate 20 years!
Alabama, Florida, Texas, and Utah RLC Chapters Host Governor Gary Johnson
Over the last month, four Republican Liberty Caucus affiliates have hosted Gary Johnson and multiple events: Texas RLC on November 6, 9, and 11; Alabama RLC on November 17; Florida RLC on November 19; Utah RLC on November 22.
The plainspoken former two-term Governor has also received national press on CNN, DailyCaller, BigGovernment.com, "Freedom Watch" on FOX Business, and The New Republic.
Below: Governor Johnson and Houston RLC organizer Corie Whalen.

Governor Johnson's message is simple: The government must live within its means. Just as families balance their budgets, so, too, must the government. Especially because the politicians are supposed to be working for us — not vice-a-versa.
Governor Johnson has attended RLC events throughout the country since he formed the Our America Initiative earlier this year.  The RLC blog features an archive of all of his visits with state and local Republican Liberty Caucus chapters.
He will also speak at the 2011 RLC National Convention on February 12.
Minnesota and Indiana RLC Chapters Host Events
On Saturday, December 4, members of the Republican Liberty Caucus of Minnesota will gather in Richfield to discuss business and ballot initiatives from 3 to 5pm.  RSVP on Facebook to become a part of one of the most active RLC state chapters!
If you live in or near Lake County, Indiana, make sure to attend the monthly meeting of local RLC activists there on Saturday, December 18 from 3 to 6pm at a location TBA. You can RSVP on Facebook.
____________________________________________________

Be A Part of the largest gathering of liberty Republicans!

……………………..Draft Agenda | Speakers
……………………..…..Convention Flyer
…………………..Frequently Asked Questions
………..………..……..….Join the RLC!
Sponsor the RLC National Convention
Without sponsors, we cannot host a successful Convention. Please become a sponsor to introduce your business or organization to hundreds of liberty activists from across the country…
… and don't forget to REGISTER TODAY!
Changes to Bylaws and Statement of Principles
Revisions to the Bylaws or Rules, as well as amendments to the Statement of Principles and Positions must be submitted to the National Board for review at least 30 days prior to the Convention (January 11, 2011). Jason Hellenberg is the Chair of the Rules and Bylaws Committee; contact Jason with any revisions or amendments.
Proposed Convention Resolutions and the nomination of any National Officers must be submitted to Convention staff for distribution to all delegates prior to the Convention. Contact Aaron to submit resolutions, to place a name in nomination for an Officer position, or to submit your intent to run for an Officer position.

We Want YOU To Run for RLC National Committee!
Please consider becoming more involved in our organization by running for National Committee.  Learn how at the RLC blog!
RLC Outreach at CPAC: February 10-12, 2011 in DC
For the first time in recent memory, the Republican Liberty Caucus will have an outreach booth at the Conservative Political Action Conference.
____________________________________________________
New Hampshire and Texas RLC Chapters Influence House Speakers Races in Legislatures
Thanks in large part to the New Hampshire RLC, Rep. Bill O'Brien is now speaker of the New Hampshire House of Representatives and RLC Board member [State Representative] Paul Mirski may become Majority Leader.  O'Brien defeated a former GOP House speaker with a coalition of liberty-focused legislators, many of whom had previously been endorsed by the RLC's November coalition.  Paul Mirski will face off against two other Republicans to become House Majority Leader.
In Texas, the state RLC endorsed Ken Paxton for House Speaker over Joe Straus, the current speaker. Rep. Straus was initially thought to have libertarian leanings, but has not demonstrated them while serving as House Speaker. In contrast, State Rep. Ken Paxton is "the real deal" and committed to liberty principles, according to Texas RLC Chairman Joey Dauben of Ellis County.

Maine RLC Activist Publishes Book on Local Politics
Vic Berardelli, the Vice Chairman of the Republican Liberty Caucus of Maine, advises campaigns for Congress, state and local office and presents The Politics Guy Campaign School nationally. He has been a legislative aide, public relations manager and speechwriter for corporate executives and public officials. He is a former newspaper columnist and radio host.
Vic's new book, "The Politics Guy Campaign Tips: How to Win a Local Election" is now available at a discounted rate directly from PublishAmerica and will be available in early 2011 on Amazon.com and selected booksellers' sites and stores. RLC membe
rs can take advantage of a 20% introductory discount from the $19.95 cover price by entering coupon code Discount20 at the PublishAmerica link.
The book is a step-by-step guide on organizing and campaigning in local elections for state legislature, mayor, city council, school board and county offices.

The Politics Guy Campaign School is presented around the country in various forms, including an intensive all day candidate boot camp. Vic Berardelli will be discussing winning campaign tips at the national convention of the Republican Liberty Caucus on Feb. 12, 2011 in Arlington, VA.
Founded in 1991, the Republican Liberty Caucus exists to promote individual liberty, limited government, and free enterprise within the Republican Party.  It is the only national organization working to achieve the mission of reforming the Republican Party to restore liberty principles from within. Minimum annual dues to the Caucus are $35, but your support in any dollar amount will be appreciated. Join today or participate in our monthly pledge program.
____________________________________________________
Republican Liberty Caucus